By road
It is 125 km by road from Joka tram terminus at the south-western edge of Kolkata. The road runs through Diamond Harbour and Kakdwip to Namkhana, where the car or bus has to be crossed a newly built bridge over a small river Hatania –Doania. There is an excellent road from Namkhana to Bakkhali. The 130 km stretch from Kona expressway (with links to the Mumbai and Delhi sections of the golden quadrangle project linking the four metros of India) and Bakkhali has been marked as National Highway (NH) 117.
The road journey from the fringe of Kolkata to Namkhana takes about three & half hours and as much as 4 hours. However, crowded market places and occasional stretches of bad road can delay movement. Some sections are very crowded specially early morning because of bazar and later at the evening time, there are no by pass for these smaller towns.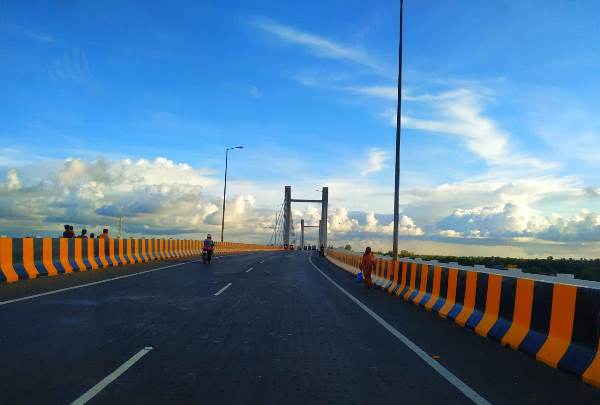 ---
By bus
WBSTC has regular bus service from Dharmatala to Bakkhali. One starts at 7AM in the morning from Dharmatala and reaches Bakkhali at around 11:30AM and leaves from Bakkhali after half an hour for Kolkata(Dharmatala). Another starts at 8AM from Dharmatala to reach bakkhali at 12:30PM and starts from Bakkhali after half an hour forty five minutes. So the bottom-line is that there are two round trips from Kolkata to Bakkhali provided by WBSTC. This schedule is subject to change and one must confirm it from Dharmatala Bus Stand before venturing out from Kolkata. The route of the bus is Dharmatala- Alipore-Chiriakhana-Taratala-Diamond Harbour-Kakdwip-Namkahana-Bakkhali.
---
By train
The nearest rail station is at Namkhana. There are regular trains from Sealdah via Lakshmikantapur and Kakdwip to Namkhana. Check the time table in erail.in. The first train starts at around 4AM from Sealdah. Then at around 4.40AM then 7.30AM and next to this one is at a long gap at around 10.30AM . Train fare is around Rs 22 and the journey takes around 3 hrs. From Namkhana station you will get a van rickshaw to reach the place from where you need to cross a narrow creek in a small boat. Van fare is Rs 3 per head or Rs 18 if you reserve a van and for crossing the creek you need to pay 1 Rupee.
Then from the bus stand one can get buses towards Bakkhali and get down at the school bus stop (Koylaghat bus stop) .